In mid-November, 1858, Boston shoe store clerk William H. Bryant wrote to his friend Nathaniel back in the village of Meriden, New Hampshire up in Sullivan County,
I attended a wedding in the church in Clancy Street night before last. Such rigging you never saw on a female before – White & blue, red, green & Yaller all mixed together, making a most beautiful confusion of colors, above I hand you portraits of the Bride & her Husband. The minister who married them, 'Was not a powerful speaker' so that I could not hear distinctly what he said. Although at one time I heard him say, And now Prescott and now Caroline, I pronounce you man & wife. Gosh did not Prescott feel all over in one place just about then.
Sources would peg this wedding as that of November 16, 1858 between 33-year-old Prescott Bigelow, son of former Boston mayor John Prescott Bigelow, to 20-year-old Caroline Thatcher Andrews. I suspect Bryant assumes the "something" Bigelow felt for Caroline on his wedding night may very well have been carnal; the caricature he supplies of the bride shows her bosom spilling from her dress, this forwardness set off perhaps by the bride's elegant mien and similarly elegant hair–though this elegance is of course in turn undercut but the bride's earring, stamped as it is with the profile of a cartoon man smoking a pipe.
That the libidinous young clerk was himself not made of stone might well be guessed by the account of how he spent his night out the next evening:
Last evening I attended a Concert at the Tremont Temple – by the Chelsea Continentals, about 90 in number.  I got quite near the singers, there were 2 or 3 young virgins, that made me feel some one of them in particular. I will not attempt to give you her portrait as I could not do her justice, especially as she was dressed in the costume of 'ye olden time.'
(The Chelsea Continentals were evidently a group in the "Father Kemp" mold, giving "Old Folks Concerts" across New England and the Mid-Atlantic states. One might easily imagine the effect an old-time tucker and bodice might have on the no doubt lecherous sensibilities of a young man in the front row.)
Bryant makes some obscure inquiries after figures in Meriden, including an allusion to "fancy work" that, with its small marginal drawing and in the context of what has come before in the letter, makes the remark seem perhaps vaguely sexual.
But even setting aside the obscure fillip of that doodle (not pictured here), it's the drawings that give the letter its life; the accomplished pen and ink caricatures are cartoons of the young clerk's daily life–there is a tattered drover with two oxen, a man walking into J. J. Barrows dry good shop and asking a little shop-girl with elaborate, courtly politeness for a piece of tobacco, and a young man cornered on the street by an old bore. The elaborate night owl at the head of the letter suggests perhaps Bryant's after-hours pursuits.
Bryant later enlisted during the Civil War with the 14th NH Volunteer Infantry and, despite claims by some, seems to have survived to return to New Hampshire, where he died in 1883. For anybody who has read Cohen, Gilfoyle and Horowitz's Flash Press: Sporting Male Weeklies in 1840s New York, you will find their accounts of the sensibilities of single young men in growing urban America–the young office clerk's pent-up ardors and sense of hilarity–echoed here.
A description of the letter follows; we have of course listed it for sale at our website.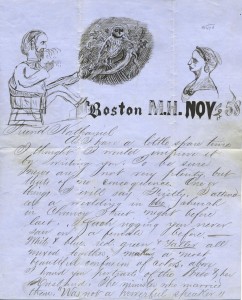 [William Henry] Bryant. Autograph letter signed, illustrated with fine caricatures, of a young single clerk in Boston. Boston: Nov. [18], 1858.  3 pages, unlined blue bifolium, 9.75 x 7.75 inches, approx 400 words. With large accomplished pen-and-ink caricatures and calligraphy. Some light soiling along the old folds; in very good condition.  — $400
 The preoccupations of a libidinous young man in the city–sex and humor–this letter a first-hand account from an 18-year-old clerk hailing from a village in New Hampshire. Mention is made in the text of life back in Meriden; when taken with genealogical and government records, this suggests the correspondent is William Henry Bryant (1840-1883) from the village of Meriden, N. H. in Sullivan County.
 In addition to the anecdotes noted above, Bryant reports that Daniel has left New York on the steam Empire City for California, and also asks that the correspondent share the pictures with Bigbee. Bryant is listed in contemporary Boston directories as a clerk. Bryant requests  in his letter that correspondence by directed to Cochrane, Kimball & Dimick, which contemporary Boston directories confirm was a firm that sold boots and shoes.