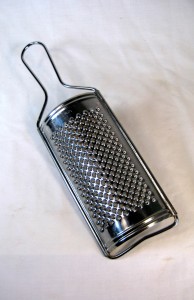 Below you will find the description of this cheese grater, which was sold out of my recent illustrated online-only catalog, Occasional List 12. Bear with me.
12. [Obscure Object]. Stainless steel Inox-brand cheese grater rescued from the recycling cart of this bookseller's landlord. Italy, ca. 2013. Approx. 11 inches long, 3.5 inches wide, 1 inch deep. With a handle. — $100
The antiquarian bookseller ca. 2014 awakens at night seized by the anxiety that the trade in fetishized, mass-produced objects has at its base an unsustainable illusion. This anxiety is not novel but has in this digital age a certain immediacy. Further, this cataloguer is sometimes approached by individuals who bear in their hands unfamiliar printed objects and the bookseller is asked by these individuals, "What is this worth?" This query has about it sometimes the air of a sullen challenge and irresistibly reminds the bookseller of Houdini's unfortunate and untimely end.
After a series of such challenges, this cataloguer becomes convinced he operates in a sort of self-constructed mental gallery of the half-baked Duchamp readymade—his daily pursuit entails asking the potential customer to apply an unconscious sense of generous irony to the idea of falling in love with a book or a pamphlet or a photo or a single printed leaf of paper, to fall in love with the object as the representation of certain ideas aside from the text; these ideas are sometimes material, sometimes aesthetic, sometimes scholarly, and sometimes frankly sentimental appeals—such evergreen winners here include the smell of the used book shop or the cult of the dusty tome. (None of this is new; booksellers have been gilding various cultural lilies for centuries.)
But the dusty tome is perhaps the bibilophilic sentimentalist's inverted urinal—Morley's twelve ounces of paper and glue and ink have been transformed as he would have it into a "new life." This is not necessarily a bad thing, sacramental implications and all, since the market has helped us together to create something with both commercial and cultural value. The bookseller worries about its sentimental basis, though, since sentimentality is not necessarily rigorous or easily quantified. The recent Significant Objects project played with this whole process, in that it billed itself as "a literary and anthropological experiment devised by Rob Walker and Joshua Glenn, [that] demonstrated that the effect of narrative on any given object's subjective value can be measured objectively. The project auctioned off thrift-store objects via eBay; for item descriptions, short stories purpose-written by over 200 contributing writers . . . were substituted."  (The whole thing will not sound unfamiliar to the antiquarian bookseller.)
This antiquarian bookseller might modestly suggest however that the Significant Objects project is a bit like what Robert Frost said about free verse and tennis, except that maybe in this case it doesn't just pull down the net but throws in a shotgun for good measure. Using fiction to sell an object makes it entirely too easy to overpower the customer standing opposed to the bookseller on the biblio-tennis court. The ethical antiquarian bookseller is a sportsman. His volleys are made in accordance with certain rules. Speculation on the significance and importance of the item is allowed; outright fabrication is not. But the bookseller worries: doesn't the move from the sale of books into the sale of pamphlets, and thence into ephemera and images, suggest a certain slackening of that metaphorical net?
With that in mind, this specific cheese grater was rescued from the recycling cart of this bookseller's landlord (a specialty wine and cheese shop) just a few weeks ago, and on a lark the bookseller decided to catalog it as a found object; because of that decision, this specific cheese grater now embodies the underlying anxieties of the chosen commercial pursuit in which this cataloguer has been otherwise unthinkingly engaged these past 23 years. The intention here is not to undermine the antiquarian bookselling pursuit, since this cataloguer remains convinced that booksellers rescue much of value that might otherwise be neglected, but rather to remind us all of the role of a bookseller's subjective if sometimes arbitrary judgment. That's a lot of weight for one specific cheese grater to bear and it has been priced accordingly. Bottom bar of the cheese grater slightly bent; small spot of rust; in near fine condition.