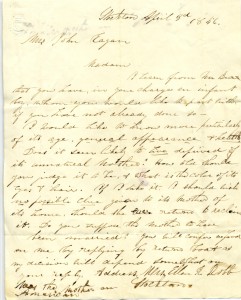 For the past number of years I've been somewhat haphazardly accumulating American letters and manuscript material from 1856 with a view toward assembling a collection representative of the depth and breadth of American concerns in a year that sometimes gets forgotten as a transitional time, what with some of the shine beginning to come off of the Gold Rush, one of our worst presidents preparing for his election run, and the nation getting itself wound up for the Civil War–who wants to dwell on a year like this?
But dipping into the hundred and more letters I've got at this point shows men and women concerned less with a nation plunging toward political suicide and more concerned instead with the smaller joys and worries that you might expect to occupy somebody dropping a note into the mail–you see C. F. Prock writing from Jacksonville, Fla. to his Uncle William on May 11, 1856 noting the profusion in the Florida backwoods of wild grapes and onions, the fine corn crop ("the negro women was to work in the field hoeing they did not have to dig the way people north have to") and that "we see a few alligators, small ones."
Or you have young Cordelia Silverheels writing to her aunt from the Cattaraugus Reservation in western New York on April 5, 1856, noting "I dont go to school I ant been inside of a schoolhous since I left Grantvill. . . . I guess we will commence on beadwork my sister is going to Buffalo to buy the materials."
Or you have Phylo Hoolbrook writing from Brooklyn on February 18, 1856 in hopes of hearing about a friend settling what likely seems a debt contracted in a shipping venture (and I will note here, all [sic]):
I thake this time to right a few lines to you to hear if you had any information of Hallock i was over past his place the other day and it was close up i think he is in Washington if i have not heard a word from him i thought i would rite a line or to to you to see if he had giv you any satisfaction or arrangement about his vesel or the notes if you should want me to come up any time about the afair just drop a line to me and i will come up dyrect.
But I think the most heartbreaking letter so far in the collection has just recently come in. The letter is dated from Stockton, California, on April 3, 1856 and is addressed to Mrs. John Eagan (likely of San Francisco) and is penned by Mrs. Ellen R. Robb. I publish the letter here in full:
I learn from Mr. Brown that you have, in your charge, an infant boy, whom you would like to part with, if you have not already done so –

I would like to know more particularly of its age, general appearance & health. Does it seem likely to live deprived of its unnatural Mother? How old should you judge it to be, & what is the color of its eyes and hair. If I take it, I should wish no possible clue given to its mother of its home, should she ever return to reclaim it. Do you suppose the mother to have been married? You will confer a favor on me by replying by return boat as my decision will depend somewhat on your reply. Address Mrs. Ellen R. Robb, Stockton.

Was the mother an American.
There's enough emotional complication here to float a short novel, with the addition perhaps of an lyric elegy or two once you locate the listing of an abstract of internments for 1857 taken from the Stockton Daily Argus, which notes the burial in Stockton on April 10 (a mere week after the burial of a Mexican, "name unknown") of Mrs. Ellen R. Robb from Pennsylvania, age 33.
(The prospect of transcribing and cataloguing this collection will likely leave me an emotional wreck.)